Welcome to Japan: trips for young people from 18 to 30!
Basic Trip 16 days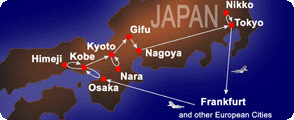 During our trip throughout Japan you will experience the young culture of Anime in big cities like Osaka and Tokyo. From the top of high skyscrapers you will get wonderful views on neon lights that light up the big metropolis, seeming endless while they stretch out to reach the horizon line. Moreover, we will have an inside view of temples, shrines, palaces and imperial residences that reveal the beauty of ancient eras. Many occasions awaits you to live great adventures, like a breathtaking river rafting and very unusual accommodations like the very traditional Ryokan and the absolutely modern Capsule hotel.
Travel Places:
Europe via Frankfurt or Paris -Tokyo-Kobe-Osaka-Himeji-Kyoto-Nara-Gifu-Nagoya-Nikko-Tokyo- Europe
Advanced Trip 21 or 27 days
After a language course and a business etiquette session in Fukuoka you will be ready to undertake the upcoming part of the trip! We will travel throughout Japan toward Tokyo and we will discover the active volcanoes, palaces and temples, castles and shrines. By exploring the scenic districts of Japan you will get the chance to experience something you cannot see anywhere else: a deep culture of Anime and Manga right on the streets and a definitely youthful life-style.
Travel Places:
Your Airport in Europe - Tokyo-Kobe-Osaka-Himeji-Kyoto-Nara-Gifu-Nagoya-Nikko-Tokyo- Europe
City Trip 8 days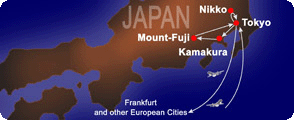 The huge city of Tokyo: take enough time toexperience in-depth the youthful life-style and the Anime culture in a metropolis that seems a sea of skyscrapers and neon lights. In the surrounding area you can visit temples and shrines, which still incredibly fit in the modernity of the city. We will say "Konnichi Wa" to the mount Fuji. We will also visit the world's biggest Manga Fair, the Comiket! You can celebrate with us the beginning of the New Year already 7 hours before in one of the biggest cities in the world. Go Tokyo!
Route:
Europe Airport-Tokyo-Kamakura-Mount Fuji-Nikko-Tokyo-Europe Airport