Legal notices
Ulurus GmbH


Bonner Str. 37
53721 Siegburg
GERMANY

Tel.: 0049- 2241-9424243
Fax: 0049-2241-9424299
E-Mail: japan@japan4youth.com
Internet: www.japan4youth.com

CEO (Geschäftsführer): Ulrich Bexte
UST-Id: DE 299 602 892
Register No and Place: Sitz Siegburg, AG Siegburg HRB 13360,

The firm BCT-Touristik is a tour operator with headquarters in Siegburg. According to the wishes of our clients we offer all kind of organized trips, with up class 3, 4 or 5 stars hotels. Groups are usually made up of 15 to 20 people, depending on the country and the program

BCT-Touristik is specialized in study trips (our modern trend) and traditionally on group trips. Besides, we also organize roundtrips for pilgrims to the Holy Land , school trips but also trekking on the Himalayan. Moreover, we offer an incoming program for clients coming to Germany from abroad.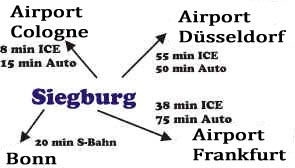 After 14 years in Münster, the headquarter of BCT-Touristik has recently moved to Siegburg, in the North-Rhein Westphalia, near Cologne. Siegburg is easy and fast to reach with the ICE trains from the Cologne-Bonn airport, Düsseldorf or Frankfurt. We also have an office in Münster, 40 km away from the Dutch border.