Japan for Youth – Basic Trip, 16 Days
Highlights of this trip
Cospaly culture
boat trip
metropolis Tokyo
Ryokan and capsule hotel overnight stays
Sake brewery
1stDay – Going East
Today our great adventure begins. From our home country we are flying to Frankfurt where we meet the rest of the group and our tour guide we're spending the next two weeks together with. There we have time to ask him or her a lot of questions regarding our trip or Japan in general prior to the departure. Before we arrive in the "land of the rising sun, we have to pass seven time zones on an eleven-hour flight.
2nd Day – Kansai International
Upon arrival at Kansai International Airport I have to try some Japanese food in order to compare it to the one I get in my home country. I'm surprised when I realize that the sushi in Japan is cheaper than back home.
After that we take the bus to our hotel in the shopping district in Osaka. But before I go shopping I want to go to sleep.
3rd Day – Welcome to Japan
Umeda station is like a milling mass of an anthill with people heading in every possible direction. It's quite fascinating to observe it. Before we get too caught up in this sight there is still Osaka waiting for us. We are heading for Umeda Sky Building one of Osaka's most modern buildings so we can marvel at the city of rivers from 173 meters above the ground.
Crazy world: A Ferris wheel on top of a department store
After a short walk we reach HEP 5, an impressive department store with lots of shops, restaurants and a Ferris wheel on the roof. After a little shopping we head to Doguya Suji, a shopping arcade of its own. Here we find many shops selling restaurant articles including this funny plastic food which you can see in most restaurant windows all over Japan. Sam always wanted to buy an original Japanese kitchen knife. It's unlikely that he doesn't find one here. And I am intrigued by this plastic sushi. I wonder how many of my friends and family back home will be fooled by that.
Whale sharks up close
At the end of the day we are going to visit either Osaka Castle or the famous aquarium of the city.
Osaka Castle was originally built by the samurai Toyotomi Hideyoshi in 1586. At that time it was the largest construction of Japan. We have a great view over the city from the higher floors.
At the word aquarium pictures of little goldfishes come to mind, but at the aquarium in Osaka those fishes are at least ten meters long. They have real whale sharks here which I never saw up close in my life before.
4th Day – City trip Kobe
Arriving in Kobe - Japan's most important port - we head for the city hall from where we have a great panoramic view over Kobe and the world's largest suspension bridge. After that we walk to the port to visit the Earthquake Memorial Park. It was put up after the great earthquake which hit Kobe in 1995, lasted 20 seconds with a magnitude of 7.2 and cost 6,000 human lives. There are still a few square meters of broken up ground and we can only assume the force with which it hit Kobe back then.
Kobe's China town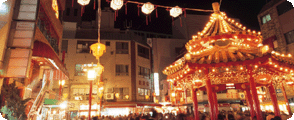 Following we are walking to "Nankinmachi", Kobe's China town. It was established 120 years ago when some Chinese immigrants opened restaurants there. Kobe is also famous as the second largest area for sake production. In the afternoon we take a look behind the scenes of sake production. Sam's the only one ignoring the warnings and drinking a little too much. Guess he's not up for some fun tonight…
5th Day – On the wings of the White Heron
Today we are going to Himeji to visit the beautiful castle Himeji-jo. In 1580 it was taken over by Toyotomi Hideyoshi and was regarded as impregnable for a long time. Its brilliant white exterior earned it the name "White Heron Castle".
After being renovated for many years the castle will be opened again in 2015 for visitors. Right beside the castle grounds you can find Koko-en Garden. It is composed of nine traditional Japanese gardens and served as a Himeji lord's residence in the past.
Following that we are going to Kyoto. I'm very excited to visit the former imperial capital and see its centuries-old cultural treasures.
6th Day – Kimono and Emperors
Today we visit the imperial palace in Kyoto which is open to the public only 8 days a year. The Emperors of Japan lived here for nearly 1000 years! That's hard to believe. But I can understand why they aren't living here anymore. Without air-conditioning and other comfort from modern life nobody would expect them to stay there.
At Nishijin Textile Center we watch a kimono fashion show. They look very nice but I don't think I would want one for myself because I would not be able to dress myself properly without help.
A temple made of gold
Much more impressive than that is just the Golden Pavilion (Kinkakuji) which is officially called Rokuonji. Its construction began in 1397 as a part of the place where shogun Ashikaga Yoshimitsu would live in his later days. After his death in 1403 Kinkakuji which was completely covered in gold leaf was turned into a zen temple.
In the afternoon we pay a visit to a busier part of Kyoto. In teramachi which means "temple city" we find a lot of shops but the surroundings don't necessarily remind us of temples anymore. There are shops like a 100 yen shop, shops you can buy yukata or even manga and anime. Even those of us who wanted to try out those amusement arcades will find some to their liking eventually. I for one want to try some of the food they are offering. I'm overwhelmed by the variety like Japanese chicken nuggets or Okonomiyaki. If I could I would eat everything!
7th Day – Nijo, shogun's headquarters
Nijo Castle was built as a magnificent demonstration of the shogun's power. The architectural style of the emperors' home lacks this magnificence. I'm impressed by the painted walls and sliding doors of Nijo Castle and especially by the nightingale floors. These floors are special because they served as an alarm system in those days. It's fascinating that the Japanese of that time invented something that simple and also effective!
The temple of clear water
Leaving Nijo Castle we take the subway to Chion-in where we marvel at its great entrance gate. We climb all its steps because that should clean your soul. Through Maruyama Park and Yasaka shrine we stroll along Ninenzaka and Sannenzaka. Long alleys with many small shops where we are invited to try some of the delicacies they offer.
After arriving at the top we enjoy a great view of Kyoto from the balcony of the Kiyomizudera temple. Its name means "temple of clear water". We can try that water, but I'm not sure if it's as healthy as it is regarded when everyone drinks from the same ladle.
8th Day – Nara: My Deer Buddha
Today we are visiting Nara, Japan's first capital. Upon arrival Nara's tame deer await us. They serve as the symbol of the city and try to get their food rather cheeky from visiting tourists. As one may not know Nara's deer are also sacred so we mustn't harm them in any way.
The first highlight on our tour after that is the Kofukuji. There we see the highest five-storied pagoda of Japan.
At the Todaiji – world's largest woo-den building – we can see Japan's greatest bronze Buddha statue. It is really impressive to witness such great work by architects and bronze caster from over 1000 years ago. Especially as in Europe it was only developed in the 19th century.
Stroll under lantern lights
Afterwards we walk past 3000 lined up lanterns at the Kasuga Taisha shrine. This shrine serves as the family shrine of the Fujiwara family who had an influence on Japanese history over a few hundred years.
9th Day – Monkey business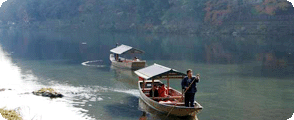 Today's trip leads us to the beautiful scenic Arashiyama. Even in the 8th century, Kyoto's noble came here to spend the summer and enjoy the landscape.
One hill-walk later we first visit the monkeys that live on the Iwata-yama and get the feeling we are at the zoo. But this time it is the other way round. We are the ones sitting in a cage.
Leaving the monkeys we visit the Bamboo forest and the Zen temple Tenryuji. At this UNESCO world heritage you'll have a look at a wonderful garden of the 14th century.
Aaaaand action!
I always wanted to know what life was like in Japan during the Edo period. At the film studio Eigamura there is a rebuilt version of the former Tokyo which was called Edo by then. We see (almost) real samurai fighting (almost) real ninja and thanks to this experience the old Japan becomes available for us.
10th Day – The ninja of Iga
Yesterday we watched fake samurai and ninja fighting each other but today on our way to Gifu we stop at a village full of real ninja! In Iga Ueno we learn more about the life of ninja in the past and nowadays. It's fascinating how real und unreal at the same time today's manga and anime about ninja are.
After this interesting stop we move on to Gifu.
Gifu Castle and ryokan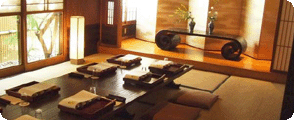 Taking the ropeway we are going up to Gifu Castle which is located at the top of Mount Kinka. From here you can enjoy a captivating view over Sekigahara to the Japanese Alps.
Following we visit the Shobo-ji temple with Japan's biggest golden dry-lacquer statue. This Buddha was completed in 1832 after it had been under construction for 32 years.
Later we arrive in Nagoya where we are staying at a traditional Japanese ryokan for the night. I am looking forward to using the Japanese bath they have there.
11th Day – Fast faster shinkansen
In the morning we take the shinkansen bullet train to Tokyo. If we're lucky we get to see Mount Fuji on our way. According to our tour guide it's a rare sight. Arriving in Tokyo we leave our luggage at the hotel in Asakusa, one of Tokyo's liveliest districts. Then we take a walk through Asakusa and visit the famous Kaminarimon - the "Thunder Gate" - pass its big red lantern and reach Nakamise – Asakusa's shopping arcade. One can find everything imaginable here and even more so everything unimaginable.
Pure culture
At the end of this street we reach the Senso-ji, one might also know it as Asakusa Kannon Temple, which was founded in the 7th century. Two fishermen fished a Kannon statue out of the Sumida River and saw it fit building a temple for worshipping it. Even today it is visited by over thousand believers a day.
After we've seen enough of the temple and taken some photos we head to Sumida River and take the boat directly to the Hamarikyu garden. It was once a park of the shogun and served for tea ceremony, strolling and duck hunting.
Shibuya and Harajuku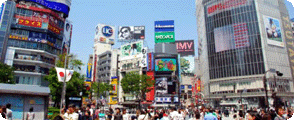 After having a short break we take the Tokyo metro to Shibuya. It is one of Tokyo's trendiest districts and a place for all night owls among us. There one can find the Mandarake, a shop full of manga, anime, cosplay and figures. Here we can shop to our heart's contents. What I like about this shop is that the staff is also interested in cosplay. Actually they have to like it to be allowed to work there.
When we have spent enough money we are going to Harajuku. Harajuku is the place where one can find cosplayers on some Sunday's at the so called cosplay bridge. From here it is only a short ride with the subway to Shinjuku. Here we visit the Metropolitan Government Building and have a great view over Tokyo from its 45th floor. If we're lucky we can also see Mount Fuji from here.
"Beehive"
The first night in Tokyo we stay at a capsule hotel. I'm a little bit sceptical when I see my "bed". Among the others it looks just like a honeycomb of a beehive. But after I try it out it's actually pretty comfortable. My room has its own TV and everything one needs.
12th Day – Akihabara – Anime Mecca
After a visit to the Ameya Yokocho Market we take a walk through Ueno Park. It was Japan's first municipal park. I recognize this park from several anime in which first dates between a main character and his love interest usually take place here.
Ueno Park is also famous for its zoo and the cute pandas which live there.
Near the zoo there is another highlight. The Kanei-ji temple has a five-story pagoda which serves as a wonderful background for the wild animal compound.
Everything is possible
Next we visit the Mecca of every anime and manga fan: Akihabara! As soon as we leave the station we are faced with Gamers Honten, a five-storeyed department store full of articles that will make us happy. There we can find for example magazines and novelties, manga and artbooks, DVDs and Blu Rays, video games, model kits, goods and trading cards. You can buy nearly everything there. To maintain an overview we get us a map of several shops in Akihabara from the Tokyo Anime Center. After that we head to the main street where there are the Animate, game centers and several shops selling used DVDs and Blu Rays. For some of us shops specializing in selling the newest electronic articles or doujinshi are like heaven on earth. At the sight of the sheer amount of things you can buy here some of us can't hide their delight.
At the end of the day we can visit a meido-kissa (maid café) if we like. I wouldn't want to miss this chance because I read so much about it I am intrigued to see the waitresses singing and dancing for the customers.
13th Day – Nikko and its temples
"Don't say marvellous until you have seen Nikko." a Japanese proverb says. Usually I'm sceptical about something like that but in this case the proverb is right. The complex is overwhelming. The Rinnoji built 1200 years ago overshadows a lot but the Toshogu shrine is outright phenomenal. There we see the mausoleum of Tokugawa Ieyasu, one of the three heroes who united Japan and founder of the Tokugawa dynasty. This mausoleum was commissioned by Tokugawa Ieyasu's descendant at the beginning of the 17th century. Like Nijo Castle in Kyoto this building is as well decorated with wonderful woodcarvings. Would you believe that only recently people are allowed to see this splendour?
Shaky knees
At the Futarasan shrine we see the so called "ghost lantern". It's a lantern which is said to have scared off even the bravest samurai. Maybe we should have come in the dark to understand that.
After that we visit the Taiyuin mausoleum, the grave of the founder of the Toshogu shrine. He was the third Tokugawa shogun. The shrine isn't very magnificent like the other but I understand Japanese people who like this one better. Even simple things can have a strong appeal.
14th Day – Odaiba and its fairs
You want to experience Tokyo's playful side? Then come and enjoy the artistically compiled island Odaiba. Today we will have an exciting time at a fair. Depending on the travel date the program for this day varies.
Anime Japan (Tokyo Anime Fair)
In March we visit "Anime Japan" – This fair resulted from a union of two fairs in March 2014: The Tokyo Anime Fair (TAF) and Anime Contents Expo (ACE). The Anime Japan is Japan's biggest anime market. There are 270 exhibitors, 55 of them from foreign countries, presenting their newest works and courting their enthusiastic fans. Additionally this is the place where the Tokyo Anime Awards are held, so one can already survey the works of future stars of this scene. In 2007 the fair had over 100,000 visitors and every year there are more visitors.
Comiket
In August and December the manga fair Comiket awaits us. Today we get to see a lot of fan-drawn so called doujinshi and cosplayers. I was looking forward to this day. Hopefully I'll see some cosplayer of my favourite TV shows. Then I will definitely ask them if I can take a picture of them.
Our tour guide said that some cosplayers are so popular that the photographers stand in a queue to take a photo. Can you believe that?
Tokyo Game Show
In September the video and computer game fair "Tokyo Game Show" (TGS) opens its gates for us: The visit of the Tokyo Game Show marks another highlight of our tour. This fair is the most important for the Japanese video game industry. Here we see games before they are translated into English if they ever will be. Not only that, we can play and test them ourselves. Have a nice day in the world of Super Mario, Final Fantasy and Resident Evil etc.
Giant's homerun
You don't want to go to a fair? No problem! There is another highlight of Japanese culture waiting for you: Japanese baseball. Whether it's the classic series "Touch" or the latest series "Ace of Diamond", there are actually quite a lot anime and manga that deal with the favourite hobby of Japanese men.
Tonight we have the opportunity to experience the world of Japanese baseball by watching a match of the famous Yomiuri Giants. In Japan's biggest stadium – the Tokyo Dome – we can see the passion of Japanese fans when they cheer their favourite team on. If we're lucky we can even see them scoring some home runs.
Rainbow Bridge and Venus Fort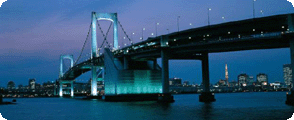 In the afternoon we take a walk along the promenade of Tokyo's only sandy beach to Fuji TV. If you have seen the finale of Digimon you might recognize that building immediately.
Afterwards we visit the Toyota Showcase and Venus Fort. There one realizes that Odaiba is not only a great sightseeing spot, but also a place where one can participate in several activities around the malls.
In Venus Fort, one of Tokyo's most unusual shopping malls, an aura of Venice is present at all times. In the Toyota Showcase we can not only marvel at cars like "Emeraude" and "Caldina" but also at the automotive technology of tomorrow. We can even try it out if we want.
Then we pass the Ferris wheel which is known as a sought-after dating spot for love-birds. Some of you might even recognize it from the Bleach movie "Memories of nobody". We can see for ourselves what the Japanese understand by being romantic. A sight we won't forget so easily!
15th Day - Tokyo 24 hours
In my opinion the trip is over much too soon. Today's the last day we can do some shopping or visit some more sightseeing spots. As we have free time today we can do what we want. I still got to buy some souvenirs for my relatives and friends and Sam wants to buy that new video game he saw in Akihabara the other day.
While we are having breakfast this morning we grasp at the chance to ask our tour guide for some suggestions where to go. Some of us want to go to Nakano to visit the shopping arcade "Broadway", so they ask the tour guide for directions and which train to take.
In the evening I want to go to the Tokyo Tower to see Tokyo at night once more before I'll meet some of the others to do some karaoke.
16th Day – Mata ne Japan
Today we have to say goodbye to Japan or as the Japanese would say, "Sayonara".
As "sayonara" actually means you wouldn't see Japan for a longer time and I don't hope so, I prefer to say, "Mata ne Japan, see you soon!"