Experience a traditional accommodation: sleep in a Ryokan!
An opportunity you cannot miss to learn something about the Japanese way of life is an overnight stay in a traditional Japanese hotel, called Ryokan.
The floor of the rooms is covered with soft straw mats, called tatami, which you are allowed to enter only with socks or even barefoot. Inside these tatami-rooms it looks simple but tasteful. The cupboards have sliding doors which are covered with washi-paper.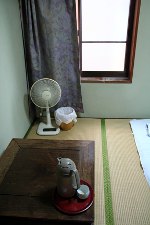 Kneeling on the soft mats you have the opportunity to taste some fine green tea. There are no common beds; instead of them, you sleep on futon-mats which are placed on the tatami. After a night in a Ryokan a lot of guests promise that they have never slept any better before.
The bathrooms of the Ryokan are designed in Japanese style, which means that there are public basins and toilets on each floor. Another highlight in the Ryokan is the famous hot Japanese bath, which is separated by gender. After a long day spent sightseeing and visiting you can sit down in the water und relax.
Useful information for your overnight stay in the Ryokan, in Nagoya:
Before you enter the ryokan you have to take off your shoes and to leave them at the entrance. In your room you will find slippers and a cotton kimono (yukata) which you can wear, especially on the way from your room to the hot bath and back. Men and women have the same house-yukata. When you use the shared bathroom you should wash yourself carefully before you enter the very hot water.
During the night in the Ryokan in Nagoya you only need to take your hand luggage with you. All other baggage will be transported directly to Tokyo. That is also an advantage for you because, following the traditional style of the Ryokan, there is no elevator.
The overnight stay in a Ryokan is an exceptional experience which you should not miss during your Japan trip. If you have any health problem or there is another reason why you don't want to sleep in the Ryokan, you can also stay in a normal hotel without any extra charge.