Travel with Travel4Youth / Japan4Youth !
Due to their perfect mix between culture, nature and activities, our trips are absolutely unique. Groups have the possibility to enjoy a rich program of activities and events but they always get as much time as they wish to also discover the place on their own. Get to know the culture and the singularity of each country, its history, while you try to figure out its future; enjoy the current time during breaks that help you to assimilate what you have learnt, and carry on this way. If you want more action, beside the cultural program, Japan4Youth also offers a Sport & Adventure program.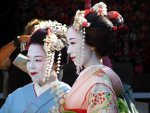 According to the place you travel to, you will be able to enjoy diving, hiking, bicycling, swimming, but also trekking in the jungle, river rafting or camelback riding. Depending on dates, you will also attend the comiket, the anime fair or a baseball game with the journey Japan 4 Youth.
Come visit the land and the people with us. If you have any question during your journey, your guide from Travel4Youth, who has spent at least one year in Japan, will be glad to reply. He knows well the country and you will get from him some details about Japan which you won't find in any tourist book. Moreover, he is aware of the current cultural and political developments and he can give you some tips for your evenings: restaurants, cafés or night clubs.
For each journey, you will receive a detailed travel book which will answer the mainly questions you could have about your journey. Your guide will be glad to give you information and we stay at your disposal per phone if you need anything.
Travel4Youth offers trips to various fascinating countries in East Asia.
Japan4Youth / Korea4Youth / Taiwan4Youth